We've really hit the ground running in 2020. Over the Christmas break we decided – rather spontaneously –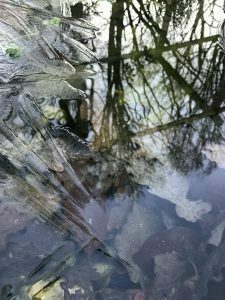 to lay a living willow hedge or 'fedge' as they are known. Our boundary line is approximately 150ft long, so we'd discounted the idea of planting a traditional hedge due to the cost. We were able to pick up 360 willow rods from Musgrove Willows, who are based in Somerset. Here's the type we've planted. It took a full day to plant the rods and tie them into the pattern you can see below. After planting the vertical rods we then weaved in the laterals – these are used to support the structure. Planting the remaining rods diagonally should stress them and consequentially encourage lots of growth. Next year we will then tie in this new growth to make the hedge denser.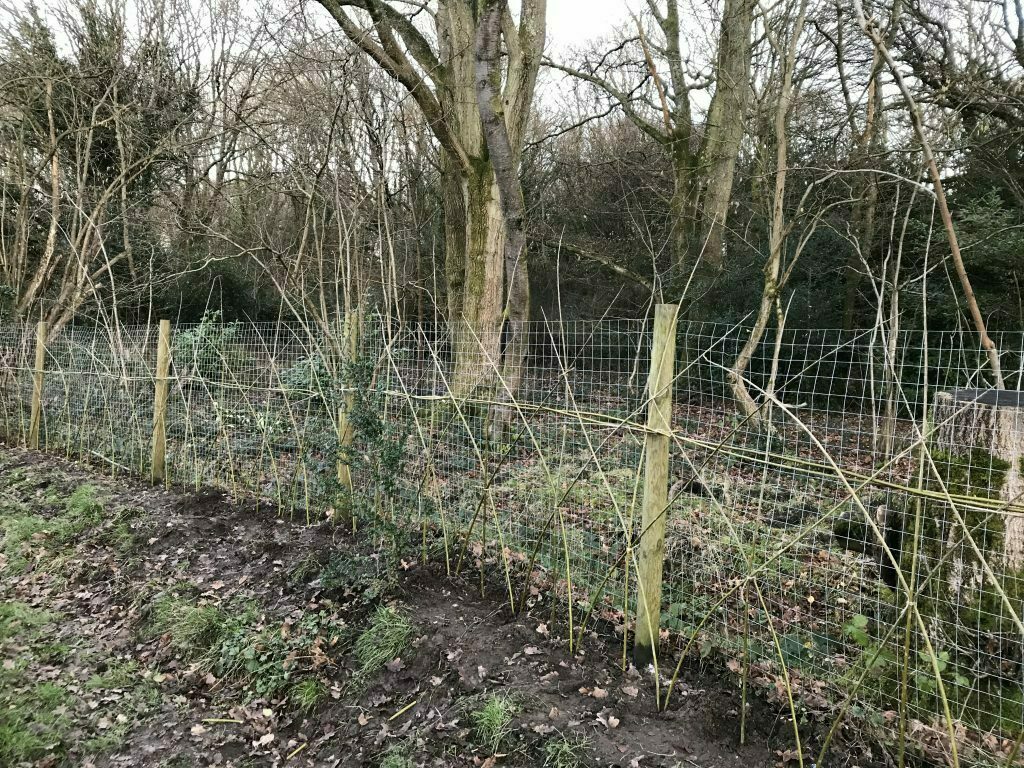 Rather like the drystone wall, we didn't have any previous experience laying a willow hedge; however, we did find a detailed youtube video explaining the process which you can find here.
As we had 60 rods left over from the willow hedge, we decided to use them up by planting an arch. We thought it would be fun to use this as an entrance way to the seating area behind the mound. As we purchased 7ft rods they aren't yet tall enough to connect, so we've held them in place with string until they've grown sufficiently. We used left over stone from the wall project (which we finished last April) to create  a stepping stone path underneath the arch, you can just about make it out in these photos.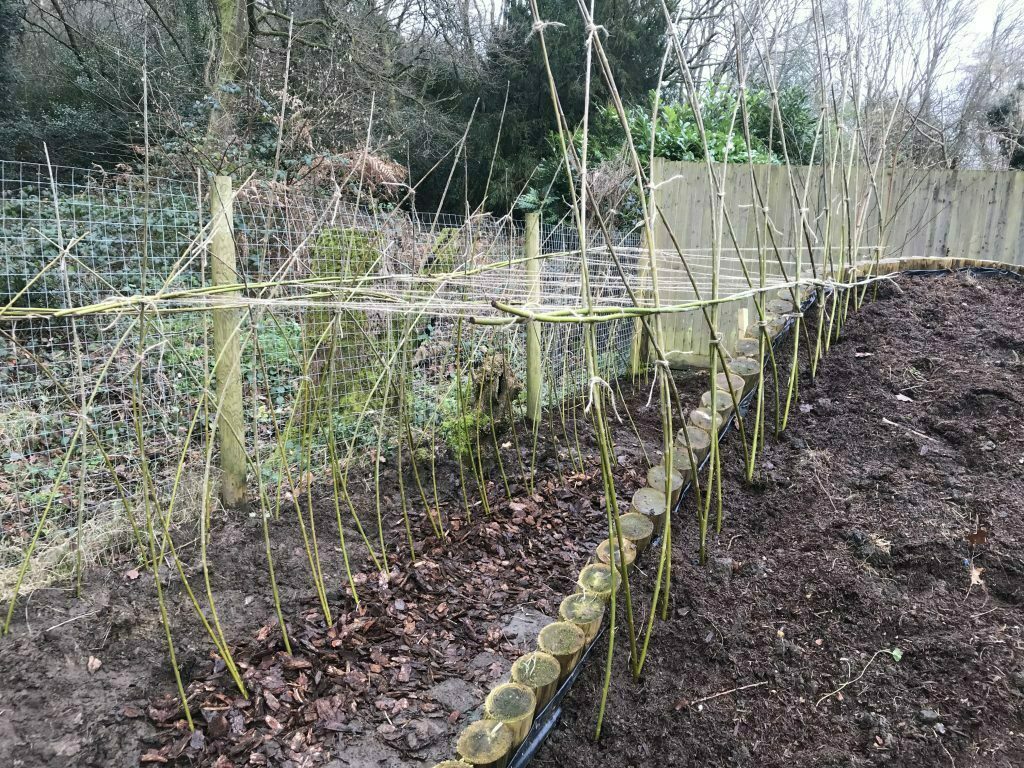 For continuity we used the remaining stone to make a path which runs next to the mound. Eventually this will lead to the new potting shed.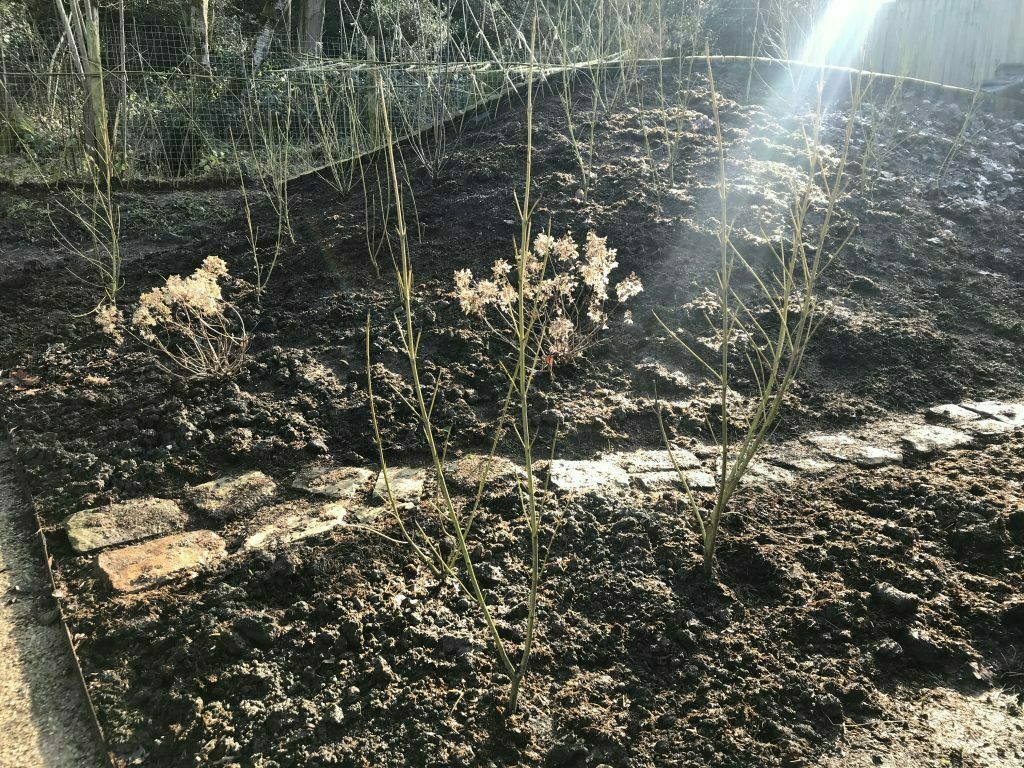 In January we also prepared the mound which we constructed in June 2019 for planting.  The turfs which we laid to form the mound have broken down, and we've also added quite a lot of compost to enrich it. Once prepared, we bought and planted 28 bare root Cornus plants; this cultivar is called 'Flaviramea' and here's where we bought them. The yellow stems are striking and should hopefully make a nice feature planted on mass like this. Buying bare root is much better value for money, so we'll continue to do this where possible. We've planted the Cornus as a structural backdrop to the herbaceous perennials that we'll position throughout. We'll divide and plant some of the stock we already have once the ground is warmer.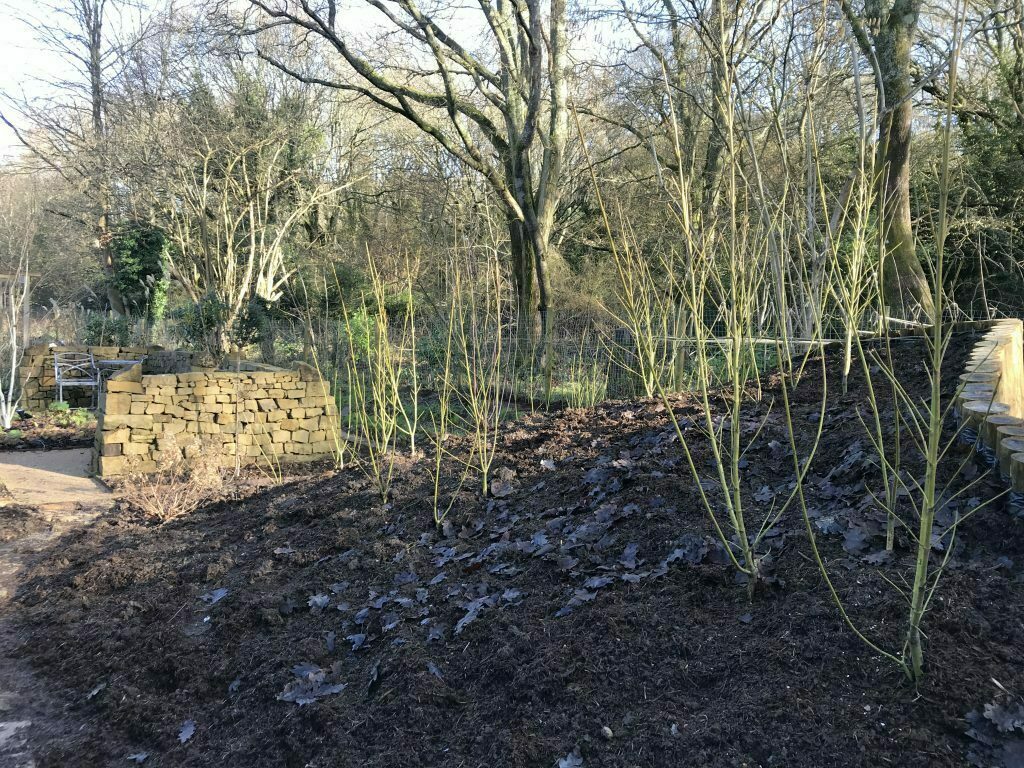 It's been energising to see other signs of life emerging this month; the light is also changing and the birds seem to be more active. Knowing that we have all the delight of another gardening year ahead of us is exciting…roll on February 2020!