I'm going to start this post with a note: if you're reading this on your phone, hold it landscape and the format looks how it should do!
As per one of my New Year's resolutions to be more observant of how the garden develops over the seasons, I've identified some of the coppice trees that line the bank of our garden thanks to their catkins. I had a look on the woodland trust website and they have some great resources on differentiating between different types of catkins (hazel, alder, silver birch, oak and white willow). These look like hazel to me – maybe I'm wrong – what you think?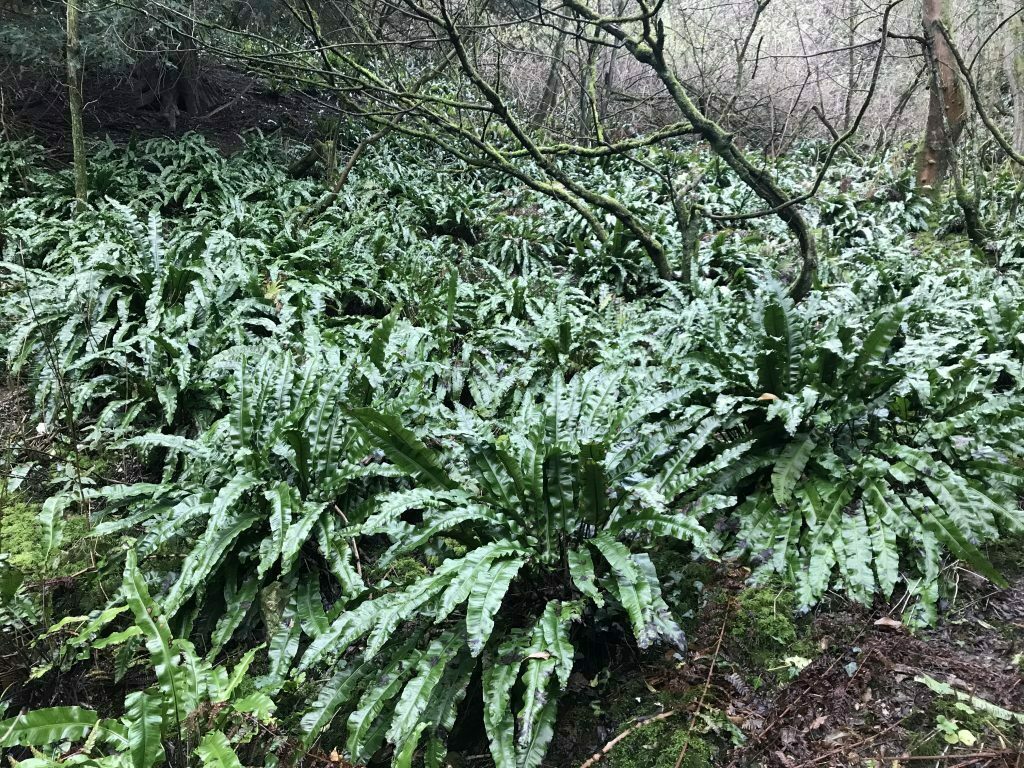 We took the time to do a walk from Box hill to Reigate using part of the North Downs Way – it was just shy of 8 miles and took us about 2 hours. At one point we came across these ferns (I think they're hart's-tongue) there must have been hundreds of them and it was quite a sight.
Compared to this time last year there is so much to observe and enjoy in the garden. The early spring flowering plants such as the Hellebore ('X Sternii') and clematis ('Armandii') are developing their flower buds nicely. The other type of clematis we planted ('Wisley Cream') flowers on last years growth so we won't see any flowers on this until early 2020; that's because according to RHS advice: 'unless the plant already has three or four healthy stems growing from the base, all newly planted clematis should be pruned back hard the first spring after planting. This will encourage multiple stems which can be trained to supports to give good coverage' (RHS, 2019). Another gorgeous evergreen that's developing flower buds are the two camellia 'Brushfield's Yellow' – we got these in an after season sale last year. I'm looking forward to potting these out into the garden; we're thinking they could act as a good year round privacy screen in the front garden thanks to their bushy habit. They've done alright in the pots they're currently in, although will no doubt be much happier with space to grow.
We went for a stroll around RHS Wisley at the beginning of the month and popped into the plant centre on the way out – turns out they were having a 50% sale on quite a lot of the perennials and grasses: it was all too much to resist (!). Instead of buying new types of plants, we thought it would be more effective to supplement the ones we bought last year; here's what we purchased:
For now they're all patiently waiting for spring to arrive on the bench…hopefully it's a sheltered enough location for them to survive until they're safe in the ground. We took some time to play around with where we'll locate them when planted out – all very exciting.
Final thought – I've planted the first seeds of 2019: Sweet Pea 'Cathy'. These are similar to last years variety 'Jilly' in that they are white, but these should hopefully be more fragrant. I also tried sowing some of the seeds I harvested from the perennial sweet pea plants last autumn – there's no sign of emerging shoots yet. I think perhaps I didn't wait long enough for the pods to mature; oh well, there's always this year to try again.
References:
Rhsorguk. 2019. Rhsorguk. [Online]. [19 January 2019]. Available from: https://www.rhs.org.uk/advice/profile?pid=344