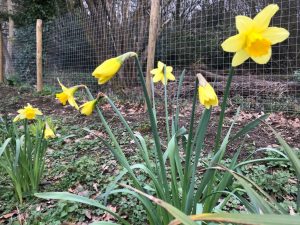 Yes thats right… we've actually made our own homegrown compost from scratch and it looks alright…if a little lumpy!
Back in June 2017 my trusty helper Luke made our composting station. We did some research in to the magical formula necessary for successful composting (which requires a delicate balance of nitrogen: green stuff  and carbon: brown stuff). Fast forward 10 months (although it can be much quicker if you fork and turn it regularly) and we have some lovely non-smelly, all natural and home made compost…hurrah! As expected, we've learnt lots about this process along the way: when adding carbon these can't actually be stick size as these don't rot down in a short space of time, we really should have mashed these up with the mower. Generally speaking we could have actually mashed everything up a little bit more (apart from the lawn cuttings and kitchen food waste). From now on we're going to try to add more carbon based materials to the compost – we're going to start off the next batch using some of the wood chipping from the ash tree that we felled in July 2017. We're also going to create a cover for it as we've since read that this helps to keep the heap warm and stop it turning sludgy.
Due to the inclement weather in early March we started working on the 3rd quarter of the dry stone wall later than hoped. We began by digging up the foundations and aligning the depth with the section that we finished last October; we measured everything up to make sure that this half would match up, and after flattening off the soil we laid the first foundation stones. Like last year we have taken off 2 weeks over the Easter period to be in the garden and our goal is to finish this quarter of the wall – hopefully the rain will hold out long enough for us to crack on (the weather forecast doesn't seem too optimistic but we'll keep our fingers crossed!) We are also slightly apprehensive that we might not have enough stone to finish this quarter.. we can't really justify buying another load before the wedding so it might be a case of making do with what we've got.
I'm excited to report on our progress for next month as the vast majority of our Easter holiday falls in April… stay tuned!