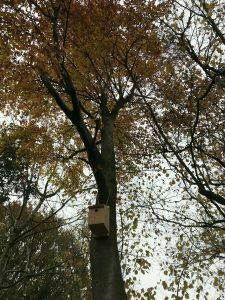 I forgot to mention in last month's post that we installed a bird box that Luke made from scratch (he got the build instructions from the RSPB). The guidance suggests that you put these up towards the end of winter; however, they also say that some birds will use these to roost in during the colder months so we thought we would put it up sooner rather than later. Hopefully we'll get a nesting pair in spring 2019.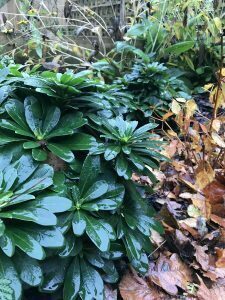 We've recently had to take down the 4 bird feeders we had as the local squirrel population found out about them and were glutenous thugs. Initially we thought it was nice to be able to let them feed but in reality they took over and ate the lot; we've just invested in a new squirrel defence feeder so hopefully we'll get the birds back again.
In November we took the time to clear away some of the herbaceous perennials that had gone over. I've read that it's good practice to leave spent flower heads standing over the winter period (especially with seed heads intact) for wildlife to feed on. I have to confess that my desire to make the garden look tidy meant that I actually cut all of these down. As our plant stock are relatively immature they looked rather sad once they'd finished flowering; however, I can imagine that large drifts of seed heads could look effective so the birds will just have to wait for the garden to establish.
I'm not one to usually enjoy a garden when it feels like everything is dying back (especially the naked trees); however, what has been encouraging this year is to to see how the evergreens that we planted back in spring are now providing much needed interest. I'm pleased we considered choosing them as their glossy leaves shine out amongst the autumn shade. I'm particularly pleased with the euphorbia 'robbiae' and also the vibernum davidii. The 'Hakenonechloa m. Aureola' that we planted out back in May also looks stunning – this zingy green grass is only just starting to turn. The evergreen clematis  ('armandii' and 'wisley cream') are also now offering some much needed colour in their position on the pergola. It's exciting to think that these plants will offer so much more once they've had time to establish and grow to their full sizes. I can't wait to have some decent sized structural shrubs in the garden as now cleared of its summer growth it all looks rather empty and flat. I'm already looking forward to spring 2019 and eager to see how our plants will grow – all fingers crossed they survive the colder months ahead.
We took the time to visit RHS Wisley again. It was interesting to see how the garden had decayed in only a few short weeks. It wasn't looking quite as photogenic as it was back in October but the grasses did look particularly good.