In September I began studying a RHS horticultural qualification at Merrist Wood college – here's a link to my programme. We visited Wisley and particularly enjoyed the tropical garden; I really liked the contrasting foliage textures and colour combinations.
I was particularly pleased with Helianthus 'Lemon Queen'  which we planted into the back of the mixed border in spring- the foliage worked well as a screen and it held on to its flowers well.
We bought a fair few packets of Foxglove seeds from one of the big marquees at Hampton Court flower show in July. These germinated well and we ended up with a real glut. I planted some into pots around the front door and also into various parts of the garden. We should hopefully get a great display next spring. I also planted 2 types of allium  ('Mars' and 'Christophii') and some tulips ('Spring Green') into the bed in the centre of the wall.  Hopefully these will look nice as they emerge through the foliage of the alchemila mollis.
It's been exciting to see the first recognisable fronds developing on some ferns that have naturalised in the drystone wall – I am not sure what types these are yet.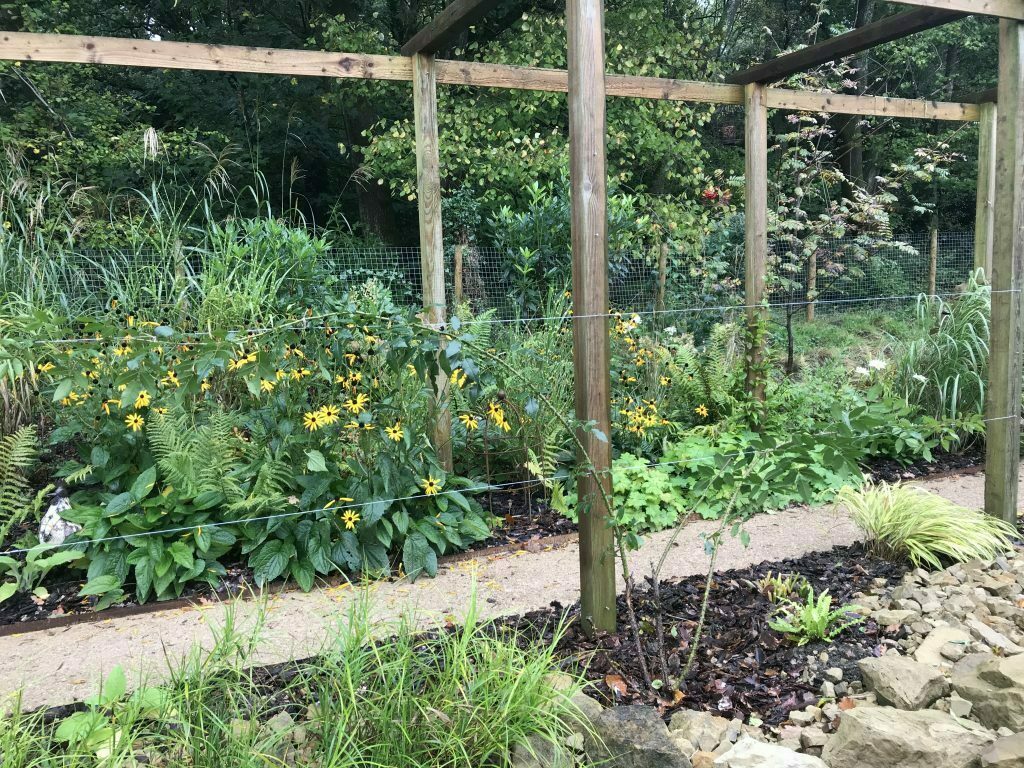 Towards the end of the season our rose developed these 2 really long and thick stems. The growth habit  was totally different to anything it had grown previously – perhaps it's because the plant is now more mature? Anyhow, we waited for these to get as long as possible and the trained them on to wire attached to the pergola posts. Hopefully with the stems trained horizontally we should get lots of blooms next year.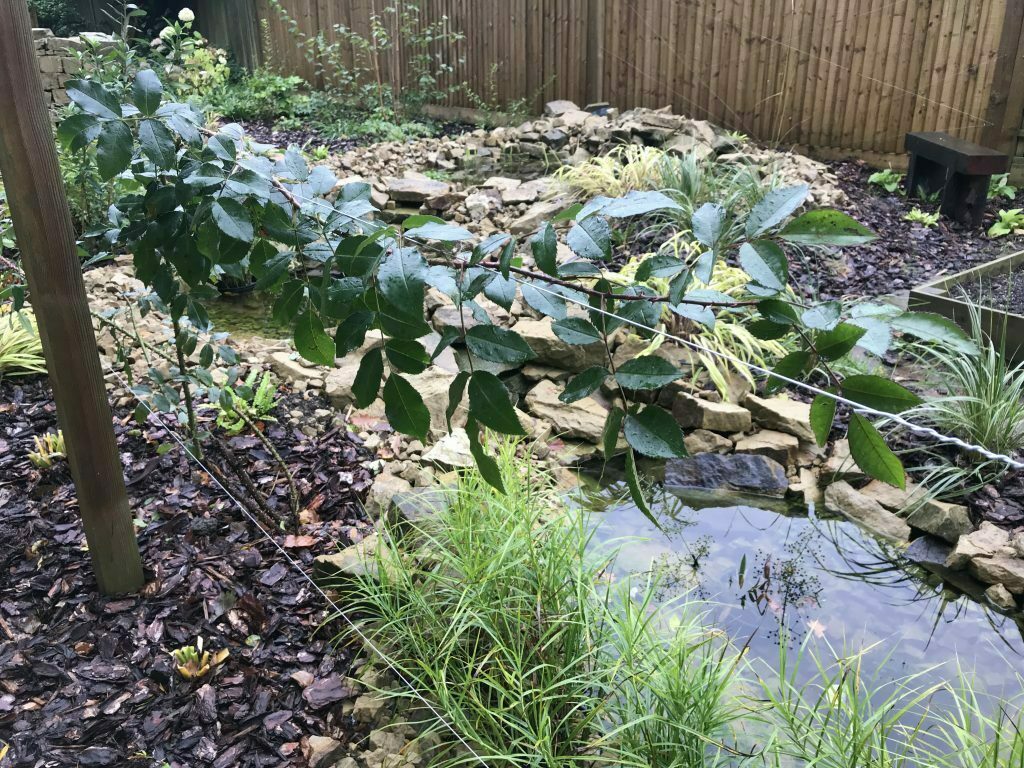 The star jasmine ('Star of Toscana') has turned the most brilliant red this autumn – although a few leaves have done this previously, this is the first time the entire plant has taken on this hue.
We've spotted more mushrooms than ever this autumn – it must be all the rain we've had.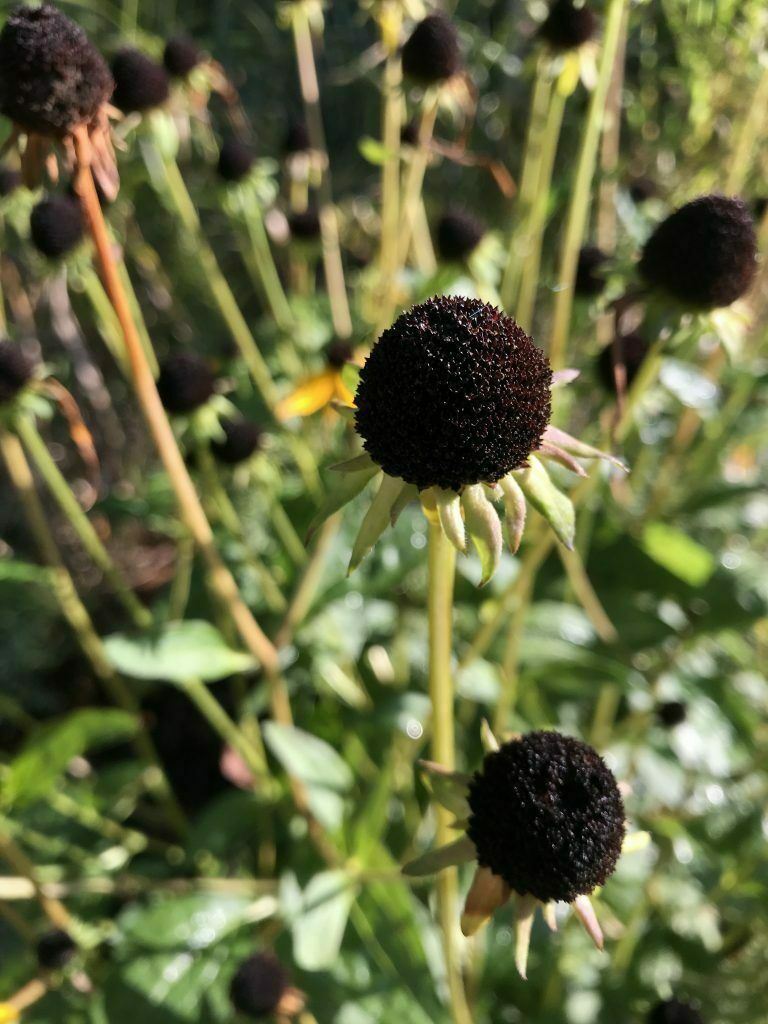 I have a tendency to want to chop plants back as soon as they've flowered. I've resisted the temptation so far and it's been great to see the seed heads on some of the plants. The rudbeckias ('Goldsturm') have looked the best; I think it's because their flowers are held on rigid stems and so they still look tidy. The hydrangea 'Annabelle' also look lovely.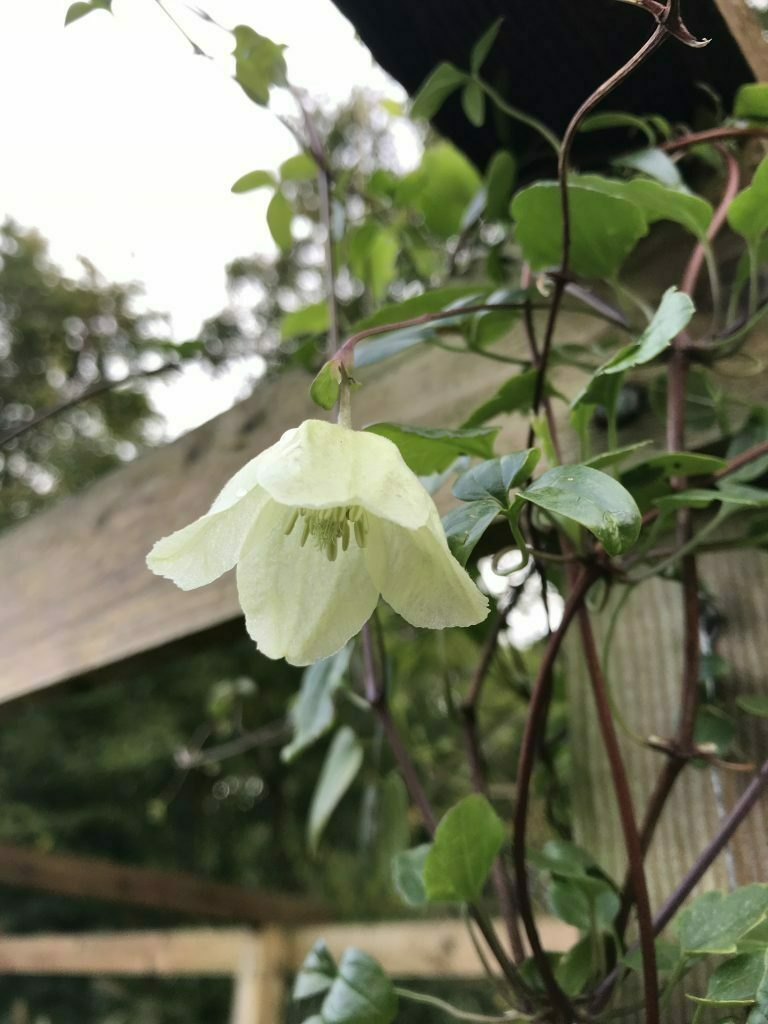 This autumn we've also been rewarded with the first blooms of the Clematis 'Wisley Cream'  (we planted these in early 2018).  I'm hoping it will give us more flowers next year once it's more established.