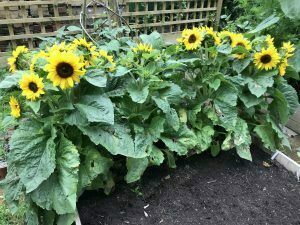 On August 25th Luke and I got married! Unfortunately the sweet peas 'Jilly' which I planted as seeds back in January were a little past it. However, all was not lost as we had a glut of sunflowers 'Micro Sun' and also from another multi-headed variety that I annoyingly can't remember the name of.  We picked the wedding flowers ourselves from a really lovely company called 'Blooming Green'; a small organic flower farm based inMaidstone, Kent. Due to the really hot summer, quite a few of the flowers had already gone to seed (such as the 'crocosmia'.) The owners of the farm were really helpful in suggesting using plants I wouldn't have considered myself (such as crocosmia seed heads). We actually peeled the leaves away from these and used them as a spiky contrast to the grasses which looked fun.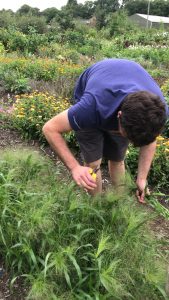 As a result we ended up with lots of foliage/grasses (especially loved using panicum elegans 'frosted explosion')  and accents of white flowers; although we hadn't really planned for this (especially the lack of colour) we were pleased with the outcome. I think that the contrasting textures and heights of the various foliage, grasses and seed heads provided quite an impact.  One of my favourite moments from the wedding was picking and arranging the flowers with Luke – It was great to have that time together (it took us about 6 hours to arrange 36 vases). One of my favourite plants we used in the display was amaranthus caudatus 'Viridis' – which I hadn't heard of until using it. I love how it trailed over the sides of vases as you can see in the middle photo. 
As we had time booked off after the wedding we visited Parham House and Gardens, my favourite part was the old lean-to glasshouse which was so lush and crammed full of plants – really magical. It was interesting to see the borders after such a warm summer – there were lots of plants that had 'gone over' but the seed heads looked great.
After the wedding we went on a long weekend honeymoon (31/08- 02/09). We visited Waterperry Gardens near Oxford . I particularly liked the formal garden – the high yew hedging and topiary was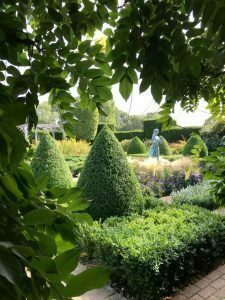 beautiful and this formality contrasted with the grasses surrounding the central sculpture. The gardens have access to a lake which they are able to pump water from which explains why the garden looked so lush after the summer we've had. We also visited the gardens at  Hidcote as part of our honeymoon weekend which i'll talk about in next months post…