We've had an unseasonably hot few months in the garden – July 2018 has been one of the hottest since records began (second only to 2006); this means that the garden is lovely to walk around late in the evening…but far too hot for midday toiling! As such we haven't really 'done' that much in the garden this month although we've certainly enjoyed watching it bloom!
There was no stopping the flowers in the raised beds in July
. Next year we will definitely thin the plants out more as although they are growing well they are totally packed in there! We did take out a few and planted these straight into the borders. This worked well to inject some colour; the Nicotiana Alata 'Grandiflora' have also added some great height (their leaves are enormous!), these plants have a really interesting musky smell in the evenings – i'll definitely be growing these every year. It will take a few years for the shrubs that we've planted to get going and mature so planting out annuals like this will help keep things looking interesting until then. All fingers crossed we'l have some to take to our wedding!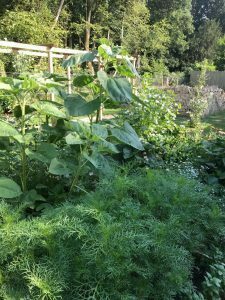 We visited the National Trust gardens at Biddulph Grange on the 14th July. The aspect of the garden I enjoyed the most was the clever use of structure as it packs a huge amount into a relatively small space. My favourite part was the China garden, the multiple viewpoints and use of levels and structures was really atmospheric. I also really enjoyed the use of water in the garden – this is something we want to include in our space (although as tempting as it is to start a new project we must remember to only have 1 major landscaping job on the go at once..!)
On the 21st July we visited Borde Hill Garden in Sussex, our favourite part was the Round Dell as the planting was really exotic and included palm trees, lots of foliage planting and a mini bamboo forest; here are some photos of that section:
On the last day of June we visited the National Trust gardens at Nymans in West Sussex. With all the hot weather we've had the planting did look quite tired; however, the ruins and buildings like the dovecote were gorgeous and I also liked the old doors and walls.
I have sometimes found myself getting frustrated with progress this month; however, looking back at where we were (even digging out the mixed border in April) makes me realise how far things have moved on – I must remember to be patient and enjoyed what's in front of me!