It seemed that lots of the plants burst into flower in early June – here are some of the highlights:
We visited my grandparents in the last weekend in May and divided up
their hostas for our garden. We made a display in pots with half of them and the rest were planted out into the mixed border. We thought we shouldn't risk planting them all out in case we lost them to unfavourable conditions.  I was slightly concerned that the ones we had planted in the border might be subjected to too much light but – touch wood – they seem to be doing alright so far. We also divided and took some of their 'Alchemilla mollis' – the leaves look gorgeous with water on them.
We decided to create a new planting bed this month; as you can see from the photo this was created in front of the raised beds we made last April. For continuity we bought some more of the same plants for this bed, apparently it's good to have a smaller selection of plants so the garden looks cohesive. So that they were not exactly the same we actually bought different varieties of the same plants but in the same colours as the ones we had previously bought.  We planted out 2 x astilbe 'Snowdrift';  5 x rudbeckia 'Fulgida Deamii'; 3 x euphorbia 'Amygdaloides Robbiae'; 3 x leucanthemum 'Alaska'; and 3 x 'Alchemilla mollis'. We've also read that you should ideally plant in 3's or more for impact – the only exception here was that one of the astilbe turned out to be bright red… we quickly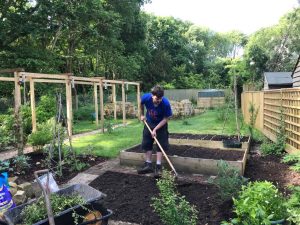 returned it!
By the end of June the sweet peas that I planted as seed in January were really starting to clamber over the coppice structures – I am definitely going to grow these every year. The seeds we planted out for cut flowers in the raised beds (hopefully for use at our wedding in August) really started to get going in June – with all the good weather we've been having it's no wonder!
Later on in June we visited the botanical gardens at Loseley Park. The garden itself is divided up into a series of rooms and we liked the flower garden the best; it is relatively small but has lots of hidden seating areas that feel really secluded and
intimate. We've decided that we're going to try and replicate this in our garden by creating a hidden seating area at the back. We also left with a new found admiration for grasses – they provided lots of structure and helped create the hidden compartments that we liked so much; they also moved and provided sound which was lovely. You can just about see these in the photo below surrounding the tree that was planted in the centre of this section of the garden. This month we revisited RHS Wisley and bought 3 x miscanthus sinesnsis 'Silberfeder' as we were so inspired by the grasses at Loseley; we've planted these in close proximity to each other and near the fence in the mixed border. We want these grasses to eventually form a privacy screen – they've already started to sprout new shoots which is exciting (we'll definitely need to move them as they get bigger!)
We've been working slowly and surely on the 3rd section of the dry stone wall – slow is probably the best way describe our progress. Rather than spend a whole day on a weekend doing it, we've been trying to do little and often by working on it after work… we are consoling ourselves by imagining how nice it will be to plant this section of the garden up once we've finished it.